Maurice Sendak: different sides of a fascinating author
(Read article summary)
The release of Sendak's new book, 'Bumble-ardy,' lets readers see both the tender and curmudgeonly sides of the children's writer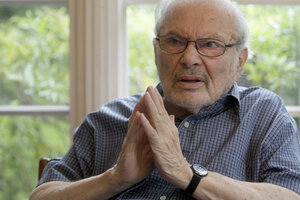 Mary Altaffer/AP
One of the joys of a new Maurice Sendak book is reading the book, of course. But another is seeing the spate of frank, illuminating new interviews with the author-illustrator, now 83. And it's striking to see the different slants of the articles and the different information each writer managed to elicit.
Many book fans, for instance, already love Terry Gross of National Public Radio for her intelligent questions and ability to draw out subjects. It turns out Sendak is a fan as well, telling her how pleased he was to learn she wanted to call him up once more. He talked with her about the sadness of missing loved ones who were gone, including his partner of 50 years, Eugene Glynn, as well as the "blessing" of living to old age and appreciating the world's beauty. He and Glynn "lived together for all of the years so that we [could] make trips to our favorite places in Europe, so that we could read our favorite books, so that we could and this is most important – we could listen to music," he told Gross. And he was glad he didn't have children of his own – he would have loved to have a daughter, he told her, but a real one "would be hard work, work I would not want to do."
---
Follow Stories Like This
Get the Monitor stories you care about delivered to your inbox.