Syrian poet Adonis leads the pack in betting for 2011 Nobel Prize in Literature winner
(Read article summary)
Thomas Pynchon is the American author closest to top, but still considered a long shot with odds of 16 to 1.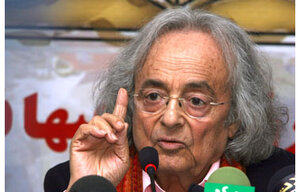 SAFIN HAMED/AFP/Getty Images/Newscom
As Thursday's announcement of the 2011 Nobel Prize in Literature winner draws near, speculation in the literary world is running rampant.
But if you're a betting person (like the visitors to the website Ladbrokes, which posts odds on who will win the prize), it might be wise not to put your money on an American. Thomas Pynchon, "Gravity's Rainbow" author, is the US writer closest to the top of the Ladbrokes list with odds of 16 to 1, but there are five authors with better odds ahead of him, including Syrian poet Adonis who currently leading the pack with odds of 4 to 1. American writer Philip Roth, an often popular choice with the US literature community, has odds of 25 to 1. Fellow Americans Cormac McCarthy and Joyce Carol Oates also have odds of 25 to 1 on the website.
Some say the Nobel literature committee would lean toward Adonis in a year where the Arab Spring revolutions brought the Middle East attention, but pundits predict exactly the opposite – that Adonis will lose out because the Nobel judges won't want to appear politically biased.
"The Academy is very keen to point out that they don't have a political agenda," Stephen Farran-Lee, the senior editor at Bonniers, a Swedish publishing company, told the AFP.
---