Jonathan Franzen's book 'The Corrections' coming to HBO
(Read article summary)
'The Corrections,' Jonathan Franzen's 2001 story of a troubled family, will air on HBO with Franzen working with director Noah Baumbach and producer Scott Rudin on the project.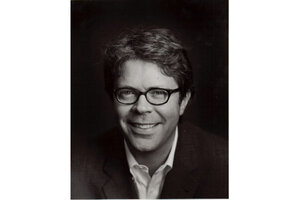 Courtesy of Greg Martin/Farrar Straus Giroux
Author Jonathan Franzen confirmed at The New Yorker Festival that his award-winning 2001 novel "The Corrections" is being adapted as an HBO series.
Franzen is writing the adaptation of the book for the screen, he said. He said he is working on the project with screenwriter and director Noah Baumbach, who wrote and directed "Greenberg" and "The Squid and the Whale," for which he received an Oscar nomination for Best Writing/Original Screenplay. Franzen said Scott Rudin, the executive producer of "Moneyball" among other projects, would also be involved, although he did not explain the exact roles Baumbach and Rudin would fill on the project.
The series will be divided into four seasons to be aired over the course of four years.
---