"Shatner Rules": William Shatner's new book tells readers how to live as he does
(Read article summary)
In "Shatner Rules," William Shatner dishes on his "Boston Legal" role, his feud with George Takei, and more.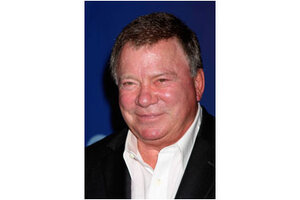 Adam Nemser/Newscom
Ever wondered how to play a starship captain, become famous for your spoken-word renditions of well-known songs, amass more than 750,000 Twitter followers, and then win the part of a clueless dad on a new sitcom?
William Shatner's here to tell you. The sci-fi icon's new book is titled "Shatner Rules: Your Key to Understanding the Shatnerverse and the World at Large." The book details his life rules, sharing along the way stories about "Star Trek" and other Shatner experiences as well as some serious reflections on life. There are also a few barbs directed at his "Trek" co-star George Takei, in addition to asides from Shatner labeled "Notes" and "Fun Factners."
Shatner soared to fame playing Captain James Tiberius Kirk in the first iteration of the science fiction TV series "Star Trek" (and he points out in his new book that no one ever actually said the phrase "Beam me up, Scotty," on the show). He also became famous for his pause-inflected speech patterns on the show.
"Theoretically, it's dramatic," he said about his well-known halting speech cadences in an interview with ABC. "Did you receive that information? Hang on a second. Here. Comes. Another."
---