Why Tomas Transtromer won the 2011 Nobel Prize for literature
(Read article summary)
Swedish poet Tomas Transtromer has been awarded the Nobel Prize for literature with poetry that "gives us fresh access to reality."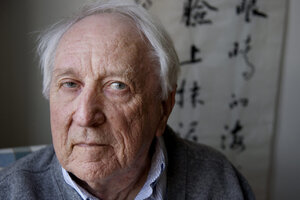 Jessica Gow/AP/File
Beating out bookies' favorite Bob Dylan, Swedish poet Tomas Transtromer won the 2011 Nobel Prize in Literature, the Swedish Academy announced Thursday.
One of Sweden's foremost poets, the 80-year-old Mr. Transtromer is known for his subtle, multi-faceted poetry that explores man's inner world, and his relationship with nature through introspective meditations, a result of his training in psychology.
The Swedish Academy said it recognized Transtromer "because, through his condensed, translucent images, he gives us fresh access to reality."
With this, Transtromer is the eighth European to win the coveted literary award in the last 10 years, following German novelist Herta Muller in 2009, French writer JMG le Clezio in 2008, and British novelist Doris Lessing in 2007. (The Peruvian writer Mario Vargas Llosa won the award last year.) In recent years, the Swedish Academy has been criticized for being too Euro-centric, passing up writers from other parts of the world.
Thanks largely to the popularity of Stieg Larsson's "Millennium" trilogy, interest in Swedish writing has skyrocketed in recent years, bringing the spotlight squarely on Transtromer. But he has long been a perennial favorite for the 10 million kronor ($1.5 million) award in his home country of Sweden, reports the AP, and in recent years, Swedish journalists wait outside his Stockholm apartment on the day the literature prize is announced.
---