Lee Child on Jack Reacher, Tom Cruise, and 'The Affair'
(Read article summary)
Lee Child talks about Jack Reacher – his quirky and wildly popular creation – and how he started writing thrillers in the first place.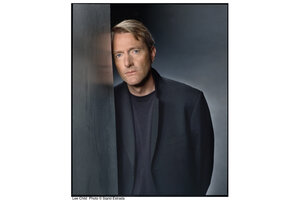 An ATM card, a passport, and a toothbrush.
Those are the possessions of Jack Reacher, the 6-foot-5, 250-pound former Army MP who drifts into precarious situations no matter how far afield he wanders. Reacher is laconic, violent, and fond of coffee and cheeseburgers.
He's also, of course, one of the most popular characters in contemporary fiction.
Former British TV producer Lee Child, 56, created Reacher, giving his hero the physical prowess to right the wrongs he encounters. Unlike many recurring characters in mystery and thriller novels, Reacher bears few scars, save a couple of physical blemishes from previous battles and skirmishes.
He dispenses justice without regret, has a strong sense of justice but never broods and enjoys life off the grid. (Among other quirks, he doesn't have a driver's license and stopped paying taxes after leaving the Army in 1997.) Reacher lacks both mental and physical baggage, opting to throw clothes away when they're dirty and buy new ones, typically at whatever discount store can be found.
The latest Reacher adventure, The Affair, has just been published, the 16th book in the series. It answers a question long posed by Child's avid readers, the so-called Reacher Creatures: What made him leave the Army? For Child, the possible plots for his creation seem infinite. Work has already begun on a new novel and the first movie based on the series, starring Tom Cruise, was scheduled to begin shooting last month.
---