Germany sees public bookshelves spring up all over the country
(Read article summary)
Shelves that allow anyone to take or leave a book are a hit in cities and suburbs, including Cologne.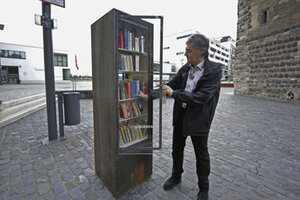 Martin Meissner/STR/AP
Imagine a library without due dates, fees, or the need to get a card.
Residents of Germany can. Public bookshelves have been spotted in Berlin, Hannover, and other areas of the country, including the city of Cologne, where more than 20 volunteers have helped organize public bookshelves in the city. Anyone who passes by can pick up or drop a book on the shelves. In Cologne the books range from classics like "All Quiet on the Western Front" by Erich Maria Remarque to a book on witchcraft, according to the Associated Press.
There are currently six public bookshelves in Cologne, one of the organizers, Michael Aubermann, told the AP. Four of the bookshelves are outside, while two are located inside Ikea furniture outlets. Aubermann estimates that it takes about six weeks for the shelves to turn over completely.
---