Uncovering the hidden story of Jonestown
(Read article summary)
In "A Thousand Lives" memoirist Julia Scheeres seeks the "whys" behind the 1978 mass suicide in Jonestown.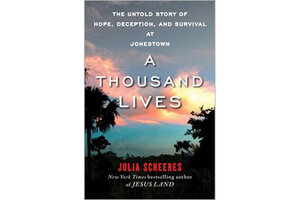 The world got to see madness and magnetism collide once again in 1978 as an American preacher took his followers to the grave.
Isolated in a troubled South American colony and under pressure from the outside, Jim Jones and his followers engaged in "revolutionary suicide." Almost all killed themselves voluntarily with poisoned punch or were killed by others. Others were murdered too, including a US congressman who was seeking the truth behind the claims of critics.
These are the basic facts. Julia Scheeres, a bestselling memoirist ("Jesus Land") uncovers the stories of those who died and the few who lived in her new book, A Thousand Lives: The Untold Story of Hope, Deception and Survival at Jonestown.
It's a gripping page-turner thanks to Scheeres, who's thorough, never sensational, and always fair – maybe to a fault – to the members of the Peoples Temple.
Telling this story was a major challenge because there are so few Jonestown survivors to interview. Still, Scheeres managed to talk to several of them, and she uses FBI files and other written accounts to fill in the gaps. While it's a bit clinical at times, the book propels the reader forward through the rise of the Peoples Temple, a left-leaning church that rode a wave of non-skepticism by political allies and the media.
---