Finally – a Booker Prize win for Julian Barnes
(Read article summary)
His fourth time nominated was the charm for British novelist Julian Barnes, winner of the 2011 Man Booker Prize.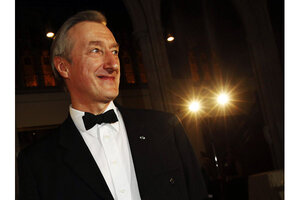 Luke MacGregor/Reuters
Literary lion and four-time Booker nominee who once dismissed the prize as "posh bingo," Julian Barnes won the 43rd annual Man Booker Prize, one of Britain's premier book prizes, for his book "The Sense of an Ending," judges announced Tuesday in London.
"Julian Barnes' The Sense of an Ending has the markings of a classic of English Literature," said Dame Stella Rimington, chair of the 2011 judges, at the announcement in London's Guildhall. "It is exquisitely written, subtly plotted and reveals new depths with each reading."
"The Sense of an Ending," Mr. Barnes's first novel after six years, became a bestseller in the UK immediately upon publication. Writes the Booker Committee: "It is the story of a seemingly ordinary man who, when revisiting his past in later life, discovers that the memories he holds are less than perfect. Laced with trademark precision, dexterity and insight, this is the work of one of the world's most distinguished writers."
The Man Booker Prize is awarded for the best work of fiction by an author from the Commonwealth or the Republic of Ireland. The winner receives a check for £50,000 ($79,000), a flurry of media attention, and is guaranteed a major boost in sales.
---