Lauren Myracle: how it felt to be dropped from National Book Awards
(Read article summary)
Author Lauren Myracle says she sees the awards debacle as a lesson of how "messy and wonderful" life can be – but that it took her a while to get there.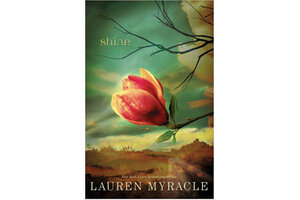 How does it feel to win huge national accolades for your work – and then have them taken away? If you're author Lauren Myracle, you take it as a lesson in the craziness of life – "messy, wonderful life."
Myracle, who was told she had been nominated for a National Book Award before news came that there had been a mistake, wrote in The Huffington Post that the experience has been "just one more reminder not to be so invested in validation from external sources".
It did, though, take her a while to get to that point.
"Telling my parents about the mix-up, and telling them about the decision to pull the book – by that point the writing was on the wall – that was the worst part," Myracle wrote. "God, it sucks to disappoint your parents, even at forty-two years old. They were nothing but loving, of course. I should have known they'd be. I did know they'd be. It still sucked."
Myracle told Vanity Fair that she had felt gutted to hear that the awards judges wanted her to withdraw her book, "Shine," from consideration for the award.
---