Bill O'Reilly's "Killing Lincoln" is "Lincoln Lite"
(Read article summary)
Bill O'Reilly's thriller, "Killing Lincoln," gives us a Lincoln cleansed of all controversy and complexity.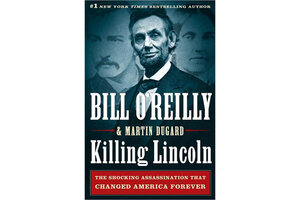 When powerhouse pundit Bill O'Reilly decided to tackle the subject of Abraham Lincoln's assassination he didn't want to write just another "boring history book."
As he told his colleagues at Fox and Friends, his goal was to craft a story that would read "like a thriller," and yet instruct the nation on the qualities required of the next president of the United States. O'Reilly's "Killing Lincoln" has succeeded in at least one respect. It delivers a taut, action-packed narrative with cliff-hangers aplenty, no mean feat since we all know how the story ends. But whether the book succeeds as a lesson in moral leadership is quite another question.

In the hands of O'Reilly and his co-author, Martin Dugard, Lincoln's assassination most resembles the kind of morality tale beloved of cable news networks: sensationalized, suggestive, and overly simplistic. O'Reilly's Lincoln is surrounded by a supporting cast of clichés. The cigar-smoking, horse-whispering Ulysses S. Grant, the proudly patrician Robert E. Lee, a childish and impulsive First Lady, and a suave demon in disguise, John Wilkes Booth – "handsome, brilliant, witty, charismatic, tender, and able to bed almost any woman he wants," a passionate son of the Confederacy, and a virulent racist with a "pathological hatred for Lincoln."
---