State Department spends $70,000 on Obama's books – and stirs a controversy
(Read article summary)
The US State Department calls the purchase of Obama's books "standard practice," but critics call it "inappropriate."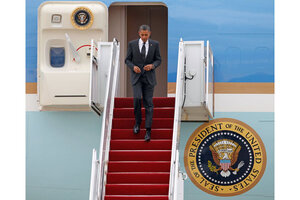 Haraz N. Ghanbari/AP
It's the biggest books shopping spree we've seen in a while.
The State Department bought more than $70,000 worth of President Barack Obama's books, The Washington Times reported Tuesday. The books, mostly Obama's 1995 bestseller, "Dreams From My Father," will be used as Christmas gratuities for embassy staff and to stock "key libraries" around the world.
Records show the US Embassy in Cairo, Egypt, spent more than $40,000 in 2009 on "Dreams," and the US Embassy in South Korea spent $6,061 on the same title, all to be used for Christmas gratuities. Obama reported between $1 million to $5 million in royalties in 2010 for "Dreams From My Father," and between $100,000 and $1 million in royalties for "The Audacity of Hope," far more than he has made as President. If he earned 10 percent royalties on roughly $60,000 worth of the State Department purchases, he would pocket about $6,000, notes The Washington Times.
Both the White House – which was not involved in the buying – and the State Department have come under intense fire for the purchases.
"It's inappropriate for U.S. taxpayer dollars to be spent on this," Leslie Paige, the spokesman for Citizens Against Government Waste, told The Washington Times. "This sounds like propaganda."
---