Ukraine president Viktor F. Yanukovich accused of plagiarizing in new book
(Read article summary)
News reports say Yanukovich's book has passages that are sometimes identical to speeches by other politicians, magazine articles, and even a college paper.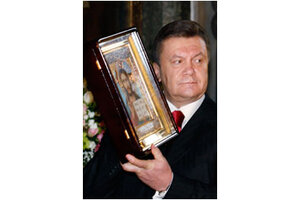 Sindeyev Vladimir Itar-Tass Photos/Newscom
Viktor F. Yanukovich, the president of Ukraine, has been facing accusations that he plagiarized sections of his new book, titled "Opportunity Ukraine."
Passages in Yanukovich's book are said to closely resemble – and occasionally mimic, word for word – a speech by Communist Party Leader Petro Symonenko, a magazine article from the Ukrainian magazine Korrespondent, and a term paper available online via a Russian essay-sharing site.
The translator responsible for the book's English version came forward after Yanukovich's office said the charges of plagiarism were a "provocation" against the president. When the translator, Kostyantyn Vasylkevych, spoke on the charges, he said the book had had footnotes, but that he had deleted them in an effort to make the book easier to read. He extended an apology to the president and to any members of the media who were "disoriented by this mistake." However, in answering the charges of the similarities of the book to previously published works, Vasylkevych said the president had merely been stating information that was common knowledge.
Vasylkevych said it was a shame the charges of plagiarism were being used in a "continuing, cynical anti-presidential campaign." He has not commented further and will not release the original manuscript he translated.
The plagiarism charges were first leveled by a reporter for the online newspaper Ukrayinska Pravda, Serhiy Leshchenko.
---