Andrew Madoff: Can he rehabilitate his image?
(Read article summary)
Andrew Madoff, son of disgraced financier Bernie Madoff, says in an interview on "60 Minutes" that he's "prepared to start over again and build myself back up."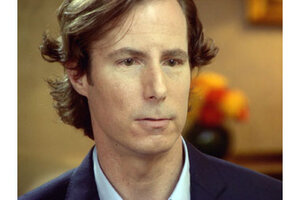 HONS/CBS/AP
Both Andrew Madoff, son of Bernie Madoff, and Andrew's mother Ruth recently appeared on "The Today Show" and "60 Minutes" to promote a new book titled "Truth and Consequences" by Laurie Sandell, which centers on the effect father Bernie Madoff's Ponzi scheme had on the family.
Andrew Madoff, who turned his father into the authorities with his brother Mark, has seemed to want to clear his name as the fallout of the financial scandal has continued. The question is whether he can fully rehabilitate his image after his family's scandal.
Madoff said during his "60 Minutes" appearance that "from the very beginning of this whole episode, I've had absolutely nothing to hide. And I've been eager, I would say almost desperate to speak out publicly and tell people that I'm absolutely not involved."
It's been the subject of endless debate whether Bernie Madoff's sons Andrew and Mark and his brother Peter knew about the financial swindling that was going on, considering they all worked for Bernie Madoff's company. During his "Today Show" appearance, Andrew Madoff was asked why he wasn't suspicious about the secrecy with which his father, with whom Andrew says he has cut off all contact, did his investing. Andrew said on "The Today Show" that he was blinded by his father's impressive reputation and that he grew up hearing of him as a "legend" and a "spectacularly skillful trader."
---
Follow Stories Like This
Get the Monitor stories you care about delivered to your inbox.