James Garner's not afraid to dish in 'The Garner Files'
(Read article summary)
James Garner offers straight talk about fellow actors like Steve McQueen and Charles Bronson, in addition to revelations about his own drug use and his hardscrabble childhood.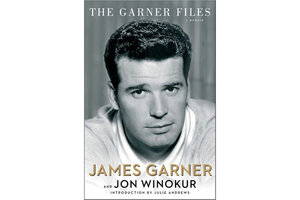 He's acted alongside Hollywood icons like Henry Fonda, Charles Bronson, and Steve McQueen – as well as Sandra Bullock, Ashley Judd, Rachel McAdams, and Ryan Gosling. Now 83, James Garner is looking back on his 60-plus-year career in a new memoir.
You could say the "The Garner Files," which hits bookstores Tuesday by Simon & Schuster (co-written by Jon Winokur), is a juicy tell-all, classic Hollywood style. It's starts with this line, from Mr. Garner: "Something funny happens as you get older. You don't hold back so much."
Garner holds up his end of the deal, according to early reviews of "The Garner Files". Among the revelations in his memoir: He smoked pot for most of his adult life and even did cocaine with actor John Belushi. He's a "bleeding heart Democrat" and a huge fan of Adlai Stevenson.
Garner's not afraid to dish on his fellow actors, either. In the book, he calls his friend Steve McQueen, of the original 1968 "Thomas Crown Affair," an "insecure poseur and not much of an actor." And Charles Bronson, with whom he co-starred in the 1963 movie "The Great Escape," "bitter and belligerent."
---