Amazon's Kindle Owner's Lending Library is a good deal – for Amazon, that is
(Read article summary)
Amazon launched its Kindle Owners' Lending Library today - but readers might want to take a look at the fine print.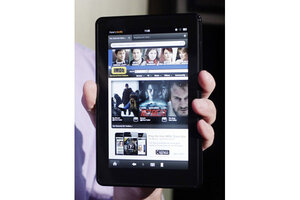 Mark Lennihan/AP
We've got to hand it to Amazon on this one. What a way to cross promote Amazon Prime and the Kindle, in one fell swoop.
Amazon launched the Kindle Owners' Lending Library, a service that offers free e-book borrowing privileges to Amazon Prime members on their Kindle devices. The program launched with 5,000 titles, including bestsellers like "Water for Elephants," "Moneyball," "Fast Food Nation," and "The Big Short."
It's a smart move for Amazon, one that gives it and its Kindle device an edge against Apple's iPad and Barnes and Nobles's Nook – and promotes Amazon Prime subscriptions, too.
But is it really a good deal? Amazon charges $79 annually for its Amazon Prime subscription service, which gives members access to streaming video and free shipping (with some caveats) – and now, "free" e-book borrowing.
Of course, it's not really free – Amazon Prime members pay $79 annually to enjoy the "free" borrowing privileges. For truly free e-book borrowing services, Kindle owners can virtually visit their local library, as we explained in a recent Chapter & Verse post, "Kindle's e-books come to community libraries."
Take a look at the fine print and the Amazon deal sounds even less enticing.
---