White like me – or, seeing the world through "Black Like Me"
(Read article summary)
As America celebrates the 50th anniversary of John Griffin's "Black Like Me," a writer recalls more recent scenarios that Griffin would have found only too familiar.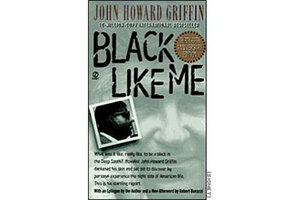 In 1959, a white man from Texas darkened his skin with chemicals, became a "Negro," and set out to chronicle his experience as a black man busing and hitchhiking his way across Louisiana, Mississippi, Alabama, and Georgia.
Two years later John Griffin published his expose "Black Like Me" and the world received a shocking eyewitness account of raw racial hatred. By this time Griffin had become white again. He was hung in effigy in his hometown.
Much has changed since Griffin experienced the humiliations of segregated buses, bathrooms, and the "hate stare." I read Griffin's book when I was nine years old growing up three miles from Thomas Jefferson's home Monticello in Virginia. Lyndon Baines Johnson had just passed the Civil Rights Act in 1964. Griffin's account so profoundly shook me that it remained on my bookshelf for the next four decades. Dry as a dessicated Dead Sea scroll, the original paperback still sits on my bookcase, its unglued binding swathed in masking tape from some rescue attempt I've long forgotten, cracking whenever I turn a page.
As a curious white girl who explored Monticello's dank slave quarters, I found Griffin's lens on race relations riveting. In the town of Charlottesville, Va., we still had "Colored Only" signs on the side of the downtown movie theatre (pointing to the back of the building). Neighbors heatedly debated when we would integrate our pools, country clubs, and private schools. I can still today feel the fury of a mother whose middle-school-aged white daughter, a friend of mine, had a crush on a black student.
Then, as payback for White Power, Black Power struck with fury. Close black friends no longer wanted to talk or walk with me. I realized they were reacting to the cultural remnants of the Old South all around them, but I felt the sting of these losses. They glared at me as we passed down high school hallways. A dozen black students I did not know launched stones at me as I walked home one day.
---