Bill O'Reilly's 'Killing Lincoln' continues to stir controversy
(Read article summary)
Citing errors, some Lincoln-related historic sites are refusing to carry the book, although O'Reilly accuses critics of nitpicking.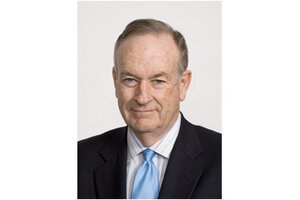 ZUMAPress.com/Newscom
Bill O'Reilly's book "Killing Lincoln," about the assassination of Abraham Lincoln, has been making headlines for days now.
It all started earlier this week when The Washington Post reported that the National Park Service, citing inaccuracies, had decided not to sell the book – which is co-authored by Martin Dugard – at Ford's Theatre, the museum that is also the site of the assassination.
Deputy park superintendent Rae Emerson conducted a study on the book and concluded that its errors were too numerous for the museum to want to offer the book for sale. Some of the errors Emerson noted were minor, such as incorrect word choice. (O'Reilly wrote, "he furls his brow" but furl is a "nautical term to compact, roll up," Emerson notes. "Furrows – narrow grove, depression on any surface, i.e., furrows of a wrinkled face.")
However, Emerson also identified more significant historical inaccuracies, such as the book depicting Ulysses S. Grant meeting the Lincoln in the Oval Office, which was not built until 1909; a mistaken claim that Lincoln assassin John Wilkes Booth carved a "peephole in the back of the state box" (the theater's acting manager, Harry Clay Ford, carved the hole); and a mistaken assertion that Union General Ulysses Grant and Confederate General Robert E. Lee only met once.
---