Truth about Natalie Wood's death 'is all in the book,' says boat's captain
(Read article summary)
Dennis Davern, captain of the boat off of which Natalie Wood drowned, wrote a 2009 book about the incident which contradicts the account of Wood's husband Robert Wagner.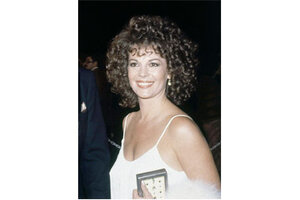 Anonymous/STF/AP
The captain of the boat off of which actress Natalie Wood drowned is also the co-author of the book "Goodbye Natalie, Goodbye Splendour" in which he alleges that her husband Robert Wagner is responsible for her death.
"I would say so," Dennis Davern said when asked if he thought Wagner was responsible for Wood's death. "Yes."
Davern, captain of the Splendour, the yacht owned by Wood and Wagner, said on Today this morning that the details he's sharing now about the night Wood drowned are all in his book, which was published in 2009. Sheriff Lee Baca of the Los Angeles County Sheriff's Office told The Los Angeles Times that the investigation is being reopened.
Davern said he had been untruthful to police when asked originally about the details of the night on the Splendour.
"I made some terrible decisions and mistakes," he said on "Today." "I did lie on a report several years ago."
He said that when Wood's disappearance came to light that night, he was urged not to draw attention to it.
"We didn't take any steps to see if we could locate her," Davern said of Wagner on "Today." "I think it was a matter of, 'We're not going to look too hard, we're not going to turn on the searchlight, we're not going to notify anybody right now.' "
Davern said he has wanted to share his information before now, but that he hasn't been able to get anyone to pay attention to his account.
---