Michele Bachmann shares her life story with voters in 'Core of Conviction'
(Read article summary)
Michele Bachmann's campaign autobiography tells of a youthful world view shaped by an antipathy to Jimmy Carter and a reverence for Ronald Regan.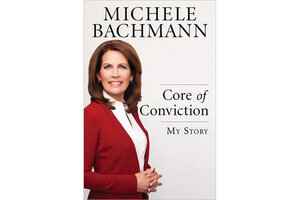 Is it a last-ditch effort to revive a sagging presidential bid that's been floundering ever since Texas Governor Rick Perry entered the field and pizza magnate Herman Cain stole the show? A desperate plea for attention seven weeks before the Iowa Caucuses? The surest way to take charge of her campaign message and relay her story to voters on her own terms?
With its curiously-timed release this week – months into her campaign – GOP presidential hopeful Michele Bachmann's new book, "Core of Conviction: My Story," seems to aim for all three.
"Biographical books from presidential candidates typically come out early in a campaign, not seven weeks before the Iowa Caucuses," writes USNews. "But Bachmann, who writes that she was late to the election, feels that it can help to begin her campaign anew in part by explaining what inspired her to run and what in her past gives her the confidence she'll win."
Early reviews suggest the memoir, which is published by Sentinel, an imprint of Penguin Group, paints a picture of a resilient Midwestern IRS tax attorney-turned-politician who was spiritually called to bring her conservative values to America's highest office.
---