Denise Mina: how the literary female detective has changed
(Read article summary)
Alex Morrow, the female cop at the center of Denise Mina's series, is proof that the literary depiction of woman in police work has come a long way.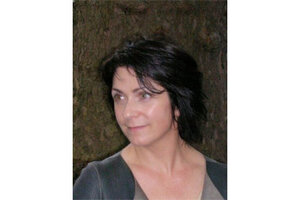 Tim Duncan
They just don't make female detectives like they used to. Thank goodness.
Alex Morrow, the Glasgow cop at the center of Scottish mystery author Denise Mina's series, isn't a bruiser like V. I. Warshawski. She's not a single woman with loner tendencies, à la Kinsey Millhone, nor is she forever fighting against sexism as Jane Tennison did in television's "Prime Suspect."
No, Morrow is polite, married, and even in the family way: "The End of the Wasp Season," just out on bookshelves, reveals that Morrow is pregnant, and not for the first time.
However, Morrow does have something in common with her precursors: She's a complicated woman. As Mina portrays her in "Wasp Season" and "Still Midnight" (the previous book in the series) she's wicked smart, an outsider – though not necessarily because of her gender – and riven by unhappiness.
Mina, who wrote earlier series featuring two other female main characters, has become one of the finest mystery writers of the 21st century. Her deeply perceptive grasp on the inner lives of crooks, cops, journalists, and their families has allowed her books to transcend the detective genre.
---