Former Polish first lady Danuta Walesa felt isolated, left to raise children alone
(Read article summary)
Walesa says in her new memoir that husband Lech Walesa is "difficult to get to know" and that during his political ascendancy, she was "a mother, a teacher, a cook, a cleaning lady, a nurse."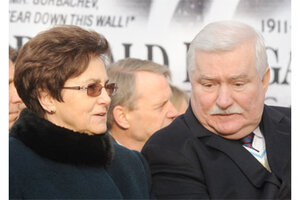 Alik Keplicz/STR/AP
Danuta Walesa, the wife of former president and Polish Solidarity leader Lech Walesa, says she felt isolated and faced overwhelming domestic work as her husband rose to power, according to her memoir which was released in Poland last week.
Lech Walesa, who won the Nobel Peace Prize in 1983, was lauded by the international community when his political movement was at the forefront of the charge to defeat Communism in Poland. He became the country's first democratically elected president.
Danuta Walesa, who had eight children with her husband, says in her new biography "Dreams and Secrets" that she was responsible for all the housework and childcare, even when she was pregnant.
"I was a mother, a teacher, a cook, a cleaning lady, a nurse," writes Walesa, who was the country's first lady from 1990 to 1995. "I had no time to do anything else."
She says the family's apartment constantly had visitors going in and out, which was overwhelming.
"We had crowds of labor union members, advisers, politicians, journalists and lunatics pouring into our apartment from dawn until late at night," writes Walesa. "Complete chaos instead of a normal home."
When asked in a TV interview why she is revealing her experiences now, Walesa said that "there comes a time when you have to disclose things, and that is why I have done so." She said she has "not revealed all her secrets." She said her husband was aware that she was writing her book, but he "never quite believed that I would actually do it."
---
Follow Stories Like This
Get the Monitor stories you care about delivered to your inbox.