Can you sue over a bad book review?
(Read article summary)
Harvard historian and author Niall Ferguson received a bad review from the London Review of Books and now tells the editor he may take legal action.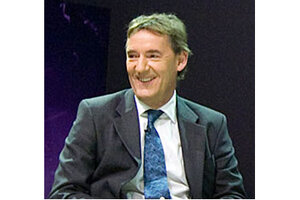 The literary community is holding its collective breath. Not since Paul Theroux and V.S. Naipaul famously fell out, some say, has today's literary world seen such a clash of titans.
After an angry exchange of letters, this past weekend, Harvard historian Niall Ferguson threatened legal action against the London Review of Books, whose writer Pankag Mishra wrote a negative review of Mr. Ferguson's most recent book, "Civilization: The West and the Rest." In response, Ferguson told the LRB's editor, "Don't force my hand by forcing me to put it in the hands of lawyers."
Wrote the New York Times, "It all started in the Nov. 3 issue of the London Review of Books, where Mr. Mishra, in a lengthy assessment of Mr. Ferguson's book "Civilization," accused him of writing triumphalist 'white people's histories…' "
---
Follow Stories Like This
Get the Monitor stories you care about delivered to your inbox.