'Fahrenheit 451' goes digital. Is Ray Bradbury mellowing?
(Read article summary)
Ray Bradbury, who has called the Internet a 'meaningless' distraction, is now finally allowing a digital version of 'Fahrenheit 451.'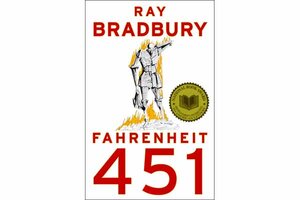 He was one of the last bastions against the digital age, who once famously claimed that e-books "smell like burned fuel." After years of resistance, however, Ray Bradbury has surrendered and his science fiction classic, "Fahrenheit 451" has been published as an e-book.
In the past, the outspoken Mr. Bradbury, now 91, has lambasted the Internet, e-books, "giant screens," and the "moronic influence" they have on our culture. In 2009, he told The New York Times "the internet is a big distraction." Yahoo!, he explained, had contacted him about putting one of his books on their site. "You know what I told them?" he told the Times. "'To hell with you. To hell with you and to hell with the internet. It's distracting. It's meaningless; it's not real. It's in the air somewhere.'"
And in a video on his own homepage, Bradbury says that "Fahrenheit 451" isn't just about book censorship, but about how television and other assorted "screens" can destroy and displace books. " "Fahrenheit's" not about censorship," he says in the video. "It's about the moronic influence of popular culture through local TV news, the proliferation of giant screens and the bombardment of factoids. We've moved in to this period of history that I described in 'Fahrenheit' 50 years ago."
---
Follow Stories Like This
Get the Monitor stories you care about delivered to your inbox.