'Watchmen' prequels provoke debate in comic book community
(Read article summary)
A prequel series will be released this summer, written by acclaimed comic book authors – but the original 'Watchmen' writer isn't involved.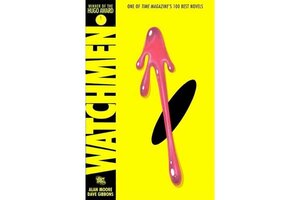 Debate is already cropping up in the comic book world over this week's announcement by DC Comics that prequels to the acclaimed graphic novel "Watchmen" will be published this summer. The prequels will not be created by the original author or artist, but by a group of comic book writers who are all well-known and acclaimed in the field.
The 12-part series "Watchmen," compiled into a single volume, became the bestselling graphic novel of all time and is often described as the best graphic novel ever published, making Time's "All-Time 100 Greatest Novels" list. (It was also turned into a 2009 movie that still divides its fans.)
Some fans feel that the material and characters shouldn't be touched, as does original "Watchmen" author Alan Moore. Moore, who would not let his name be attached to the "Watchmen" movie, has railed against DC Comics for years and told The New York Times that the new series is "completely shameless."
"As far as I know," Moore said, "There weren't that many prequels or sequels to 'Moby-Dick.'"
This new venture represents a lack of creativity on the part of DC Comics, he said.
"I tend to take this latest development as a kind of eager confirmation that they are still apparently dependent on ideas that I had 25 years ago," Moore said.
Jim Lee and Dan DiDio, DC Entertainment co-publishers, said the new series will be a way to update the mythology for a new millennium.
"It's our responsibility as publishers to find new ways to keep all of our characters relevant," they said in a statement. "After 25 years the Watchmen are classic characters whose time has come for new stories to be told."
---