Charles Dickens: looking for love in all the wrong places
(Read article summary)
On the bicentennial of the birth of Charles Dickens – Feb. 7, 2012 – his best novels remain linked to his many heartaches.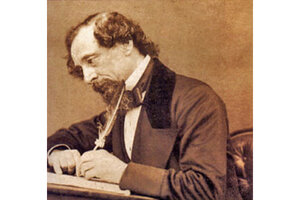 Charles Dickens was an undisputed creative genius, a rock star of his era, and one of the brightest lights of Victorian England. And yet the author of some of the most beloved novels in the history of English literature was also an unrequited lover who spent much of his life nursing heartache and pining for a consoling love that he never found.
Perhaps it all started with his father, John Dickens, a charming ne'er-do-well whose stint in a debtors' prison forced his his young son into work in a horrific bootblacking factory. As readers, however, we owe a debt of gratitude to the improvidence of John Dickens, because it was that brush with those on the bottom rung of England's economic ladder that filled son Charles with a burning sympathy. "Hard Times," "Bleak House," "Our Mutual Friend" – in fact, almost all of Dickens' novels, in one way or another – were at least partially inspired by Dickens' keen desire to right the wrongs of society and to bring comfort to the have-nots of his world.
But when it came to the opposite sex, Dickens found little justice and even less comfort. His first great love, Maria Beadnell, left him for a more prosperous suitor. He would idealize her as Dora in "David Copperfield." (Later in life, however, he reencountered Beadnell and thought her fat and ridiculous. His revenge on her was the character of Flora Finching in "Little Dorrit.")
---