Eudora Welty: the garden at the heart of her creativity
(Read article summary)
Eudora Welty's love for flowers is explored in a new book.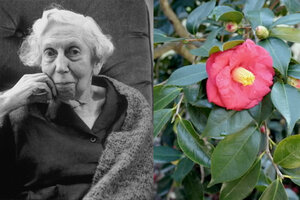 L: Nancy R. Schiff/Reuters R: Bill Regan
In July of 1994, when I interviewed Eudora Welty at the home in Jackson, Mississippi where she had lived almost continuously since childhood, Welty expressed only one regret as she reflected on her life and work.
Welty, then 85 years old and in frail health, lamented that as her body had declined, her garden had declined along with it.
"The garden is gone," she told me with a slight sigh in her drawling Southern voice. "It makes me ill to look at it."
But what the celebrated matriarch of Southern letters didn't know at the time – and what I didn't know, either – was that help was just around the corner.
During the 1980s, Welty had donated her house to the Mississippi Department of Archives and History, with the understanding that the house would be turned into a museum after she died. In August of 1994, Susan Haltom, who worked at the department and had an interest in garden design, showed up at Welty's doorstep along with other department employees. With the assistance of other volunteers, they offered to slowly restore the garden that Welty and her late mother had once tended to perfection, creating an Eden of daylilies, roses, nandinas, camellias, azaleas and other Southern horticultural favorites.
Welty was excited about the restoration plan, though impressed by the amount of work that Haltom and her team had ahead of them. "It would be like hell to do," Welty said of the job.
---