Railroad historian says California is on wrong track
(Read article summary)
Stanford professor Richard White, author of 'Railroaded,' voices his staunch opposition to California's high-speed train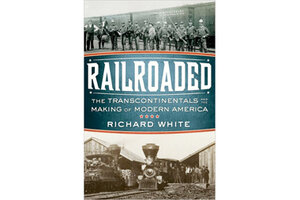 Considering that he spent 12 years studying the history of American railroads, you might assume Stanford University professor Richard White would be delighted to take a bullet train from nearby San Francisco to Los Angeles in the time it takes to watch a Harry Potter movie.
After all, it's a dusty 6.5-hour trek by car and a hassle of security lines and cramped seats by plane.
But Richard White, the author of last year's well-received "Railroaded: The Transcontinentals and the Making of Modern America," is no fan of the state's mammoth high-speed rail project, which is scheduled to break ground this year. He warned in the New York Times last month that "it will become a Vietnam of transportation: easy to begin and difficult and expensive to stop."
White's opposition to the bullet train is unusual since he comes from the political left rather than the right. [Editor's note: In this sentence White was originally – and incorrectly – referred to as "Wilson."] (Many of the project's political opponents are Republicans.) I called him and asked why he sees the nation's railroad history as a cautionary tale instead of an inspiration. We also talked about the railroad baron he considers to be an airhead – the one whose name graces Stanford University, where White works.
---