Robert Harris's "The Fear Index" makes a thriller out of a man sitting at a computer
(Read article summary)
Robert Harris, the author of 'The Ghost,' discusses his new financial page-turner "The Fear Index" and his predilection for writing about ancient Rome.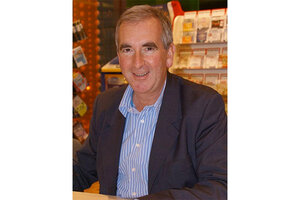 Jost Hindersmann
Robert Harris can make a thriller out of just about anything. Even a guy sitting at a computer staring at numbers.
Sure, the British author began his fiction career with a traditional foray into alternate history, imagining what Germany and the world might have been like had Hitler survived and won the war. Since his World War II best-sellers (follow-up "Enigma" traces the British quest to break secret Nazi naval codes), Harris has delved into subjects ranging from the plight of an aqueduct engineer in ancient Rome sitting on the edge of Vesuvius to the deceptions discovered by a ghost writer for a British prime minister modeled on Tony Blair.
More recently, Harris has written two novels based on the political intrigue of Cicero and ancient Rome. The final book in the trilogy is expected next year.
At the moment, Harris is very much in a 21st-century state of mind with the recent American publication of "The Fear Index." Set in Geneva, the novel is a contemporary version of Frankenstein. This time the monster is artificial intelligence run amok in the ever-volatile world of hedge funds and global finance.
Dr. Alexander Hoffman, the protagonist of "The Fear Index," is the architect of an algorithm that is making his firm, and its clients, piles of money. He is the silent partner in the operation, never heard from in public, and viewed as a mysterious figure.
---