Portugal plays each side against the other in World War II
(Read article summary)
Neill Lochery's new book "Lisbon" chronicles Portugal's pivotal role in World War II.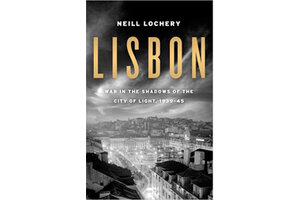 If you wanted out of Europe during World War II, all signs pointed to Portugal. The same was true if you were a spy and wanted in.
Neutral and seemingly weak, the little country on the Iberian Peninsula managed to play the world powers off each other and avoid invasion. Meanwhile, desperate refugees crowded the streets of Lisbon while a dictator fought to survive and boost his country's wealth.
Neill Lochery, a historian best known for work analyzing the Middle East, chronicles the struggles and success of Portugal in his new book Lisbon: War in the Shadows of the City of Light, 1939-1945.
In an interview this week, Lochery explored a dictator's dilemmas, a diplomat's bravery, and a legacy that could include tons of Nazi gold.
Q: Lisbon sounds like a combination of both Casablanca (the movie version, at least) and Switzerland. Is that a valid comparison?
A: To me, Lisbon was the real Casablanca, the only city where the allies and axis powers openly operated in Europe. It had all the diamond traders, the refugees, people with letters of transit, people trying to get letters of transit to get to America.

The British operations manager said it really resembled Casablanca twenty-fold. That was the atmosphere of Lisbon. But your point about Switzerland is well taken. One of the key questions was neutrality, and the success of maintaining neutrality was a great challenge for the Portuguese.

Q: What made Lisbon useful to people trying to get out of Europe?
---