Presidents Day: our best presidents are as close as the nearest biography
(Read article summary)
With biographies like Carl Sandburg's 'Lincoln,' Americans can learn about past presidents on any day of the year.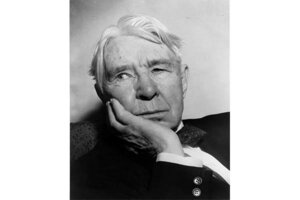 I was in the office of my banker, Adam, the other day when I noticed a copy of Carl Sandburg's six-volume life of Lincoln lined up along the credenza.
People often decorate their offices and living rooms with old books, so with a wink across the desk, I asked Adam if the Sandburg series was just for show.
"I've always liked to read, and the Sandburg set is from my father," Adam told me. "Sometimes, when I'm here late waiting for a client to show, I dip into Sandburg's 'Lincoln' to pass the time."
The thought of a young executive leaving the world of mutual funds and annuities to travel with Honest Abe from the prairies to the White House heartened me. I wondered if we all might benefit by turning away from our cluttered desks, if only for a few moments, to revisit the words and deeds of the Great Emancipator.
With the arrival of another Presidents Day, perhaps now is as good a time as any to acknowledge our debt not only to Lincoln, but to Sandburg, who won the Pulitzer Prize in 1940 for the concluding volumes of his Lincoln biography. Sandburg, best known as a poet, seemed an unlikely biographer of the nation's 16th president when he started the project in the 1920s.
"There were some critics who said at the time that a poet's pen should not meddle in history," Sandburg's daughter, Paula Steichen, later recalled.
The poet comes through in many of the passages from Sandburg's "Lincoln," which resonates with hymn-like clarity. Here's Sandburg on the death of Lincoln's mother:
---