Encyclopedia of evil: a catalog of history's 100 worst atrocities
(Read article summary)
Librarian Matthew White discusses 'The Great Big Book of Horrible Things' and his desire to set the record straight.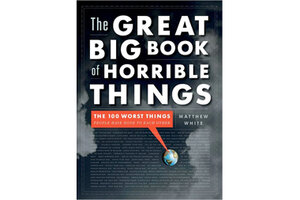 Our collective knowledge of the past doesn't go back very far when it comes to quantifying the worst things humans have done to each other.
We know the wars of the last century caused tens of millions of deaths. But what about the Crusades, the African slave trade, and the many conflicts in China's history? How do they compare? Were they even worse?
Maybe they deserve more attention as we try to understand humanity's most horrific moments and prevent future ones.
Matthew White thinks so. The Richmond, Va., librarian believes it's time for a fuller accounting of man's inhumanity to man. In the newly published The Great Big Book of Horrible Things: The Definitive Chronicle of History's 100 Worst Atrocities, he ranks the deadliest human-caused catastrophes of all time, topped by World War II, the regimes of Genghis Khan and Mao Zedong, famines in British India, and the fall of the Ming Dynasty.
The 669-page book's unusual approach to an exceedingly grim topic has attracted attention, including a New York Times story that noted it's gained credibility thanks to scholarly fans.
Despite being a kind of encyclopedia of evil, it actually manages to be a fascinating read thanks to White's keen grasp of history and his wry take on the villains of the past.
It helps that White is careful to respect the victims who died at the hands of others and correct the record when necessary about the identities of those who were responsible for so much misery.
---