PBS specials will explore Margaret Mitchell and Harper Lee
(Read article summary)
The Southern authors, each of whom wrote a classic American novel, will have their lives and influence explored in two episodes of PBS's 'American Masters.'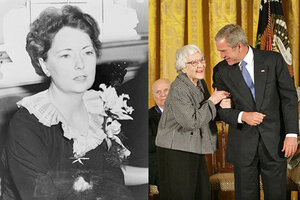 It's hard to think of two more indelible portraits of the American South than the novels "Gone with the Wind" and "To Kill A Mockingbird."

And PBS is pairing the two authors of those works, Margaret Mitchell and Harper Lee, for its new "American Masters" specials. "Margaret Mitchell: American Rebel," which will focus on the author behind Scarlett O'Hara, will premiere at 9 p.m. on April 2. "Harper Lee: Hey, Boo" will premiere after the special on Mitchell at 10 p.m. (Local times may be different.)

Both authors were born in the South and each published only one novel in her lifetime (though Lee is still alive). The two books, both of which are considered classics, are celebrating anniversaries this year, with "Gone with the Wind" marking its 75th year since publication and "To Kill A Mockingbird" reaching its 50-year milestone.
---