12 Chinese authors file suit against Apple
(Read article summary)
A group of Chinese writers charge that Apple is selling unlicensed copies of their works.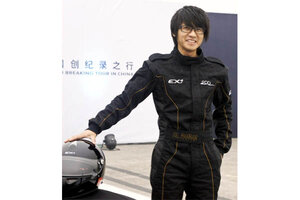 AP
The tables have turned, or so it seems.
A group of Chinese writers are accusing Apple of selling pirated copies of their books in its online store and seeking $3.5 million in compensation from the technology giant.
As the AP reported, "The case is a departure from the usual pattern of US artists or companies going after Chinese copycats."
In a classic journalistic case of "man bites dog," a group of some 12 Chinese writers, including renowned author and race car driver Han Han, has filed three separate suits against Apple, claiming its App Store has been selling unlicensed copies of some 59 of their works, Wang Guoha, a lawyer representing the authors, told the AP.
In all, 23 writers have logged complaints with Guoha, claiming Apple sold 95 of their works without permission. There are conflicting claims about the remaining authors. Not all have filed suit yet, though the official Xinhua News Agency reported Sunday that the writers were collectively seeking 50 million yuan ($7.7 million) in compensation from Apple (which Guoha could not confirm).
According to Guoha, the works were made available on the App Store without the writers' knowledge or permission, thereby violating their copyright. After the suit was first filed in January, Apple deleted some of the books from its store, but the works quickly reappeared in the Apple Store.
---