'Harry Potter' e-books: game-changers for the digital world?
(Read article summary)
Unlike most e-books, digital versions of the 'Harry Potter' series can be read on any device, which may be a harbinger of practices to come.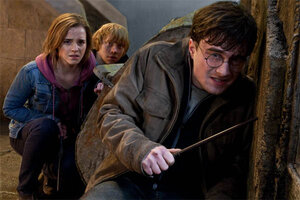 Jaap Buitendijk/HONS/Warner Bros. Pictures/AP
With a wave of the famous boy wizard's wand – and a bevy of distribution deals – Harry Potter's Pottermore has brought the wizarding world to the digital world.
That's right, Harry Potter books finally became available in digital form Tuesday on Pottermore, J.K. Rowling's new web store, enabling fans to buy e-books and audiobooks of all seven Potter novels.
But there's more magic there than meets the eye. In a major departure from industry standards, the Potter e-books aren't locked with encryption, allowing consumers to share and read the books on multiple devices. In other words unlike a typical e-book, the same Potter e-book downloaded from Pottermore will work on Kindles, Nooks, iPads, smartphones, and more.
It's a significant break with industry practice and it could provide the model that will undermine e-book dominator Amazon.
"I think it's a very large crack in a dam that's going to collapse in the next nine to twelve months," Matteo Berlucchi, CEO of independent UK-based online bookstore aNobii, told the Northwest Indiana Times.
As the music industry did until 2008, distributors sell e-books in encrypted form that only authorized devices can read. A digital book from Amazon, for example, can only be read on its Kindle e-readers and on Kindle apps. It won't work on other devices. Similarly, e-books purchased from Apple or Barnes and Noble will only work on i-devices (iPads, iPods, iPhones) and Nooks, respectively.
---