Amazon hears from hometown critics
(Read article summary)
A four-part series in the Seattle Times charges Amazon with aggressive business practices and a lack of philanthropy.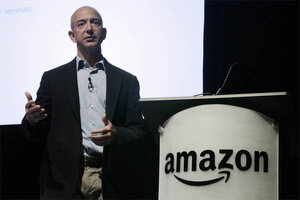 Ted S. Warren/AP
Whether it's Apple's Cupertino headquarters, Target's Minneapolis home base, or General Motors' Detroit, hometowns are usually supportive of their local businesses.
Unfortunately for Amazon, the relationship with its hometown – Seattle – isn't quite so rosy. In a string of blistering articles written over the past several days, the Seattle Times has portrayed local powerhouse company, Amazon, as an aggressive, self-interested market dominator that has done little for its home city.
"From the moment Jeff Bezos launched Amazon.com in a small Bellevue house in 1994, it has cultivated a reputation as the consumer's friend," begins the introduction to the Seattle Times's four-part series on Amazon. "But as Amazon prepares to turn 18 this summer, its practices are drawing increasing scrutiny, from civic leaders in its hometown to lawmakers around the country, from business partners to labor activists."
The article then proceeded to list Amazon's apparent offenses in detail.
---