'Island of Vice' author Richard Zacks on Teddy Roosevelt's crusade to clean up NYC
(Read article summary)
Richard Zacks talks about the remarkable Teddy Roosevelt and his failed attempt to take the vice out of New York City.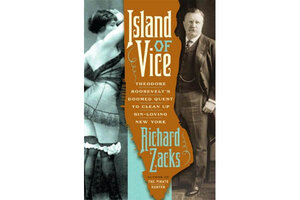 In the 1880s and 1890s, vice never slept in New York City.
Gamblers gambled, prostitutes prostituted, and thieves thieved, all under the not-so-careful watch of police on the take. Then an aristocratic little man named Theodore Roosevelt decided to make a big difference.
Cocky and sure of himself, Roosevelt became an unyielding force. He stalked the streets of the city in search of corrupt cops and made a stink about a police department that barely seemed to police anything.
The ultimate fate of Roosevelt's efforts can be found in the title of historian Richard Zacks' new book, Island of Vice: Theodore Roosevelt's Doomed Quest to Clean Up Sin-Loving New York. Never mind the giveaway of the ending. "Island of Vice" is a rollicking tale of hedonism and hypocrisy, crime and corruption, and one man's refusal to accept any of it.
In an interview from his home in New York City, Zacks – who previously made a splash with his book "The Pirate Hunter" – describes the sinful world of the Big Apple, Roosevelt's remarkable nighttime excursions and the guts of a man who refused to take get-lost for an answer.
Q: Just how bad was vice in New York City before the turn of the century?
A: It was extraordinarily full of vice. About 40,000 prostitutes were working in the city at the time, and there were many brothels, casinos and bookie joints. As for alcohol, clubs, and bars were supposed to close at one in the morning. But some couldn't remember being closed since the Civil War. All of these activities were illegal, so somebody had to pay off the police to make it happen.
---