Jade de Jong: South Africa's answer to 'The No. 1 Ladies Detective Agency'
(Read article summary)
South African author Jassy Mackenzie has created private investigator Jade de Jong – the grittier, South African version of Botswana's Precious Ramotswe.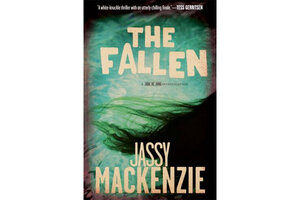 Considering its rampant crime and long history of racial strife, South Africa may sound like a place that's better for leaving than living.
But author Jassy Mackenzie has chosen to stay in the country she loves. The same goes for her fictional creation, a private eye named Jade de Jong who's sexy yet unafraid to hurt others (or worse) if necessary.
Mackenzie's three de Jong novels are a treat for lovers of exciting thrillers and gritty mysteries. De Jong is brittle but likeable, unlucky in love and quick – wicked quick – with a gun.
Mackenzie's plots are fast-moving and believable, full of vivid characters like South Africa itself. Her novels – including the newest, "The Fallen" – depict an overcrowded country full of rampant corruption and the most vicious forms of violence imaginable.
De Jong finds herself battling human traffickers, cutthroat developers and hired killers. She doesn't have clean hands herself, a fact that could come to haunt her on the job and at home. Still, she boasts a basic sense of integrity and a soul that's not yet withered by the world around her.
In an interview via Skype from South Africa, Mackenzie talked about the hidden gentle side of South Africa, the detectives who influenced her (including one Nancy Drew), and the reasons her books are a bigger hit in the US than in her own country.
Q: For people who haven't read your books, what can you tell us about your main character, private investigator Jade de Jong?
A: Although she'd been away for 10 years in the first book, she is quintessentially a South African. She has a deep love for South Africa in spite of all its failings and in spite of the crime; she loves the diversity and the people.
---