'Steve Jobs' and 'The Help' dominate reading lists in many American cities
(Read article summary)
Data gathered by Nielsen BookScan for The Daily Beast show many of the same titles are popular in American cities – but exceptions include 'Heaven Is For Real' and 'The Great Gatsby.'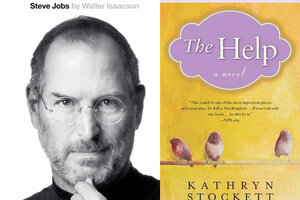 Data gathered by Nielsen BookScan for The Daily Beast showed that while cities in America may be divided by politics or geography, many of their residents are enjoying the same books – namely "Steve Jobs" by Walter Isaacson and "The Help" by Kathryn Stockett.
The data was compiled using information from various bookstores in 10 of America's largest cities, including New York, Chicago, Boston, and Dallas, and examined which nonfiction and fiction titles were the most popular.
"Steve Jobs" topped the nonfiction list in every city listed except Dallas and Houston, where the book "Heaven Is For Real" by Todd Burpo took the top spot. Stockett's novel about maids in 1960s Mississippi took the top fiction spot in every city, in many securing the top two with "The Help (Movie Tie-In Edition)" coming in at the second spot.
---