12 days of disaster that changed Chicago forever
(Read article summary)
Author Gary Krist looks back at 1919 and the blimp crash, murder, and race riot that made the Chicago the metropolis we know today.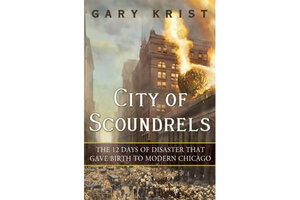 Mention the city of Chicago and the year 1919, and someone might bring up the Black Sox scandal that disgraced major league baseball. But the Second City had much bigger problems on its mind earlier that year.
A blimp crashed downtown in a fantastic accident. A young girl was murdered by a person (or persons) unknown. A race riot broke out and dozens were killed.
And on top of all that, a transit strike paralyzed the city, all during the heat of a Midwest summer. In his new book, historian Gary Krist takes a closer look at one of the most epic series of crises to ever hit an American city. "City of Scoundrels: The 12 Days of Disaster That Gave Birth to Modern Chicago" is a crackling history, full of expert storytelling from the very first page. In an interview, Krist talks about the dashing of Chicago's grand post-war optimism, the
corruption that has long bedeviled the city's reputation, and the legacy of inept people making bad decisions.
Q: What happened in Chicago in 1919?
A: You had a city going from a state of high optimism about the future to the brink of civil collapse and martial law.
The war was over, the influenza epidemic was tapering off, the crime rate was low, and people had this plan for Chicago in view.
[Architect and urban planner] Daniel Burnham had this visionary plan that was going to turn Chicago into the Paris of the prairies, and people were very optimistic about this.
Then the postwar pressures just set in. And what started out looking hopeful disintegrated into this 12-day period when the city descended into chaos.
---