Federal judge throws out civil suit against 'Three Cups of Tea' author Greg Mortenson
(Read article summary)
Mortenson said in his first public statement in over a year that he was 'subjected to false allegations, vicious name-calling and slander.'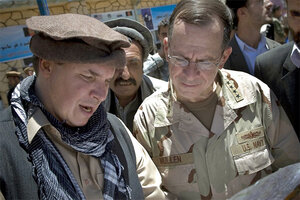 U.S. Navy Petty Officer 1st Class Chad J. McNeeley/Department of Defense/AP
After a year of investigations, lawsuits, and accusations, it seems "Three Cups of Tea" author Greg Mortenson can finally breathe easy.
A Montana federal judge dismissed a civil lawsuit Monday against the author, which charged Mortenson lied in his bestselling books to boost sales. The four individuals who brought the suit said they, and scores of others, were cheated out of about $15 each because the so-called nonfiction books were filled with fabrications.
The lawsuit, writes the Monitor's Warren Richey, "sought to wage a nationwide class-action suit on behalf of millions of readers against Mr. Mortenson, his co-author, David Oliver Relin, his publisher, Penguin Group, and a nonprofit organization he set up to help build schools in Pakistan and Afghanistan."
US District Judge Sam Haddon threw out the suit and barred any attempts by the plaintiffs to refile.
"The imprecise, in part flimsy, and speculative nature of the claims and theories advanced underscore the necessary conclusion that further amendment [of the complaint] would be futile," Judge Haddon said.
---