How a murder changed China as it moved toward World War II
(Read article summary)
Paul French, author of 'Midnight in Peking,' tells how the murder of a British diplomat's teenage daughter shook both Chinese and foreigners in pre-war Peking.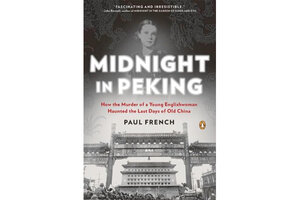 In the 1930s, Peking is no Shanghai. It lacks the gloriously lawless panache that turned its fellow Chinese city into an international sensation.
Still, Peking has plenty of vice, much of it based right next to a diplomatic enclave full of Western-style hotels, saloons, and shops. It's a volatile mix, and in 1937 it becomes a deadly one: a vivacious young British woman is found brutally murdered and mutilated.
In his new book Midnight in Peking: How the Murder of a Young Englishwoman Haunted the Last Days of Old China, author Paul French tells the true-life story of a shocking murder that occurred as China itself stood on the edge of catastrophe in the shadow of a looming World War II.
"Midnight in Peking" is true-crime writing at its best, full of vivid characters, an exotic locale, secrets galore, and a truly bewildering mystery.
In an interview, French talks about the fear spawned by the death of a diplomat's daughter, the stray footnote that spawned his book, and the international "driftwood" who called China home during the Great Depression.
Q: What was happening in Peking – now Beijing – in early 1937, when the young woman was so viciously murdered?
A: This was absolutely the last gasp of old China. The Japanese have surrounded Peking, and it's not really a question of if Japan is going to invade China, but when.
---