Did Ben Bradlee have lingering doubts about Watergate?
(Read article summary)
A new biography of Ben Bradlee by Jeff Himmelman quotes Bradlee saying that – decades later – he still had "a little problem with Deep Throat."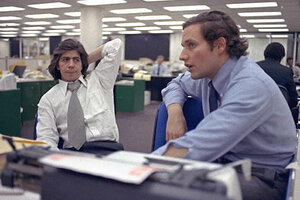 AP
Bob Woodward and his "All the President's Men," which outlined the revelation of the Watergate scandal, had its share of critics, many of whom doubted the existence of Woodward's secret source "Deep Throat."
According to a new book, they weren't alone: even Ben Bradlee, legendary Washington Post executive editor, questioned whether Bob Woodward was completely "straight" in recounting elements of the landmark scandal in his best-selling book "All the President's Men."
For "Yours in Truth: A Personal Portrait of Ben Bradlee," Jeff Himmelman (an associate of both Bradlee and Woodward) was given full access to Bradlee's files and embarked on a fruitful exploration of the legendary editor's misgivings.
Himmelman's account does not call into question the veracity of Woodward's reporting, but it does suggest "that even a relationship as close as that of Woodward and Bradlee was not immune to moments of doubt," writes the Washington Post.
New York Magazine website ran an excerpt of the book Sunday that's been drawing ire from readers, pundits, and even Woodward himself.
"You know I have a little problem with Deep Throat," Bradlee told journalist Barbara Feinman in an unpublished 1990 interview, according to Himmelman's account. "Did that potted [plant] incident ever happen?.... And meeting in some garage. One meeting in the garage? Fifty meetings in the garage? I don't know how many meetings in the garage.... There's a residual fear in my soul that that isn't quite straight."
---