Anna Quindlen talks about her new memoir 'Lots of Candles, Plenty of Cake'
(Read article summary)
Quindlen Krovatin (who happens to be her son) chats with the author about the book and the history behind it.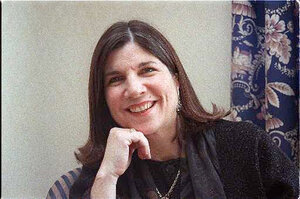 Jennifer Green/Christian Science Monitor
Conducted by Quindlen Krovatin for The Barnes & Noble Review
Anna Quindlen -- whose new memoir, Lots of Candles, Plenty of Cake, was published by Random House last week -- is a woman of many accomplishments. Pulitzer Prize-winning journalist. Beloved novelist. Sought-after public speaker. The only author to ever have books on The New York Times' fiction, nonfiction, and self-help bestseller lists.
She's also my mother, which she'd tell you is her greatest accomplishment (along with being the mother of my younger siblings, Chris and Maria). I thought, since her new book is filled with reflections on motherhood and family, who better to ask the right questions than someone who's been around for much of the journey her memoir describes?
So I asked if I could interview her about the book and the stories behind it, and she said yes (of course). But as we sat down to talk, she was the one with the first question: "Isn't this so weird for you? I mean, did you ever imagine that someday we'd be sitting here at the dining room table, talking about my life?" In truth, the experience was a little surreal -- and nerve-wracking. We've had plenty of conversations about her work before, but this was different; I felt the pressure any interviewer feels, to ask the right questions to get the interviewee talking. But it turned out to be so much fun that we both quickly forgot about the unusual occasion and the tape recorder between us.
---