Stephen Colbert's children's book tops the bestseller list
(Read article summary)
Stephen Colbert's latest release – a picture book aimed at young adults and up – follows a pole as it searches for the perfect job.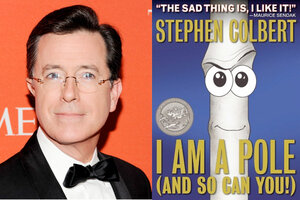 L: Evan Agostini/AP
The late children's book legend Maurice Sendak gave it a memorable review in a January appearance on "The Colbert Report": "The sad thing is, I like it," Sendak told TV host Stephen Colbert about Colbert's planned children's book.
And now Colbert's picture book, "I Am A Pole (And So Can You!)," is a reality, having debuted earlier this month and currently holding the number one spot on the Hardcover Advice and Miscellaneous section of the New York Times bestseller list. (And that quote from Sendak is splashed across the top of the cover.)
The book was first introduced to the "Colbert" viewing audience when Colbert was interviewing Sendak in a two-part special and mentioned his interest in breaking into children's books. Colbert had already written one original work, "I Am America (And So Can You!)," a book for adults. Colbert said the idea of introducing "Pole" into the discussion with Sendak arose during interview preparation.
"My character's motivation for the [book] was his wanting to get into writing celebrity books, which we knew was something loathed by Mr. Sendak," he told Publishers Weekly.
But Sendak's reaction was unexpected.
"I knew when he laughed throughout and said he liked it, it could be a real thing," Colbert said.
Parents, beware. Colbert's book is a parody of a children's book than the real thing. Among other adventures, the pole of the title, which is going through an identity crisis, briefly moonlights as a stripper pole.
---