FC Barcelona stars help to bring e-books to Africa
(Read article summary)
Worldreader, a nonprofit literacy organization, is using messages from Barcelona soccer stars to help distribute one million digital books to children living in sub-Saharan Africa.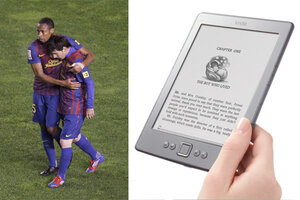 Juan Medina/Reuters
It's the recipe for a perfect literacy campaign: stars from one of the world's great soccer teams putting one million e-books in the hands of African children.
Spanish soccer team FC Barcelona teamed up Thursday with nonprofit literacy organization Worldreader in a literacy campaign that aims to distribute one million digital books to children in sub-Saharan Africa with limited access to literature.
"Worldreader is committed to putting a digital library in the hands of all children throughout the world's developing countries, and we're thrilled with the support of FC Barcelona to send one million e-books to students in Africa," Worldreader CEO David Risher told CNN.
In order to achieve its goal of distributing one million e-books to 10,000 children in Africa, Worldreader is seeking $5 contributions from one million donors. Because e-readers are often shared among friends and family members, Worldreader expects the campaign to put e-books in the hands of 50,000 people. The nonprofit has already donated 100,000 books to 1,000 students in Ghana, Kenya, and Uganda, and hopes to expand into Rwanda and the rest of sub-Saharan Africa soon.
---