Why America forgets the War of 1812
(Read article summary)
Author Don Hickey discusses the reasons for the conflict and how it's remembered by our northern neighbors.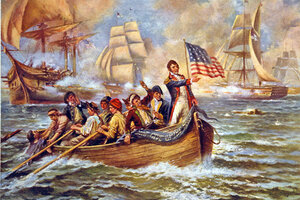 Quiz time! Remember that famous movie about the War of 1812? You know, the one with that one big star and the other big star?
You don't. No one does since there hasn't been one. In fact, the conflict has only inspired two or three films, and those are largely forgotten. (It probably didn't help that the 1958 one starring 12,000 extras and Charlton Heston as Andrew Jackson was envisioned as a musical.)
It wasn't that the War of 1812 lacked drama. Our nation's capital actually got invaded, and the Battle of New Orleans actually occurred after a peace treaty has been signed thanks to the lack of rapid communication.
Even so, the war -- which actually lasted from 1812-1815 -- just hasn't fired up our imaginations.
What gives? As the war reaches its bicentennial this month, I called Don Hickey, professor of history at Wayne State College in Nebraska, to ask him that question.
He's the author of 1989's epic "War of 1812: A Forgotten Conflict," which was updated and revised for a reissue this year. Hickey talked about the reasons for the war, the way our neighbors to the north look at it (they got invaded, after all) and the reasons why we could have avoided this conflict entirely.
Q: Why don't we remember the War of 1812 very well?
A: It's forgotten because the causes don't resonate much today.
We went to war to force the British to give up the removal of seamen from our ships and restrictions on our trade with Europe.
---