Marco Rubio's memoir is released as his star rises
(Read article summary)
Marco Rubio's memoir 'An American Son' hit bookstores this week even as rumors swirl that Mitt Romney is considering him for a running mate.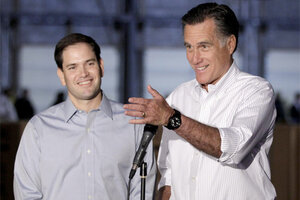 Jae C. Hong/AP
The American son, it seems, is having his moment in the sun.
Florida's junior senator Marco Rubio isn't just the fastest-rising Hispanic political star in American politics today. He's also a contender to become Mitt Romney's running mate. And, thanks to a perfectly timed release, he is also the author of a memoir that hit bookstores this week, while an unauthorized biography, "The Rise of Marco Rubio" by Washington Post reporter Manuel Roig-Franzia, came out yesterday, the same day as Rubio's book.
"An American Son," centers on Sen. Rubio's dramatic political rise as the son of Cuban exiles who struggled to establish themselves in a new country. The child of immigrants who worked blue-collar jobs to send their son to college, where he played football, went on to earn a law degree, then commenced a lightning-fast ascent in politics, Rubio is the quintessential American son here.
And Rubio's story hits shelves just as his name hits headlines as a potential – and popular – contender as Romney's running mate. As a Hispanic senator elected in a Tea Party-fueled victory from the swing state of Florida, Rubio has a lot to offer the Romney campaign. He could provide a clear path to improving the GOP's strained relationship with the country's fastest growing minority group (though, as political watchers have pointed out, Rubio is Cuban, a group with which many Mexican-Americans do not necessarily connect).
"Rubio also brings other political credentials, including hero status with many conservative Christians and Tea Party supporters, a proven ability to raise big money and residency in the nation's quintessential swing state," reports USA Today in a story about the junior senator's book and his turn in the limelight.
---