Heinrich Barth: the greatest explorer you've never heard of
(Read article summary)
Writer Steve Kemper tackles Barth in the first biography in English about the explorer who ventured into Islamic Africa.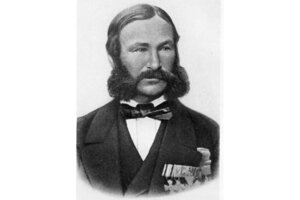 His fantastic mutton chops alone should give Heinrich Barth some immortal fame. But that's not all that sets him apart. The 19th-century German explorer led an extraordinary five-year expedition into Islamic Africa, a journey that taught the West about the amazing cultures and creatures of a mystery continent.
But Barth and his adventure are barely remembered today. Perhaps it's because of his nationality, his prickly personality, or his inability to express his thoughts in anything less than thousands of pages.
Whatever the case, one of the world's great explorers is now the subject of his first biography in English. It's titled "A Labyrinth of Kingdoms: 10,000 Miles through Islamic Africa" and written by Connecticut-based freelance journalist Steve Kemper.
I reached Kemper at his home and listened to his soft Kentucky accent – he's from Louisville – as he described an explorer worth remembering for more than his sideburns.
Q: Why haven't we heard of this guy?
A: There are a lot of reasons, and they all add up to a perfect storm.
He was German and working for the British, who like their heroes home-grown and have a long history of suspicion of the Germans. He managed to accomplish one of their greatest expeditions ever, and he was German. Some people didn't get over that.
There was also was the length and density of Barth's work -- 3,500 pages of closely observed nature, culture, ethnography. The book didn't create the stir that Livingstone and Stanley did.
Then there's the stuff he came back with: Islam is a great religion, and Africa has a history of culture and literature, complex societies and systems of government. This was going against what people wanted to believe about the continent they wanted to pillage and take over.
And there was also his personality.
---