Paterno biography: Can it recover from bad timing?
(Read article summary)
Writer Joe Posnanski's biography on the late Penn State football coach comes after the infamous scandal involving Penn State coach Jerry Sandusky.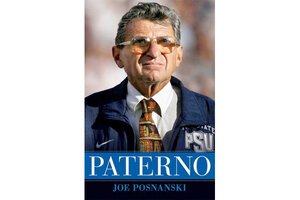 It's being called "perhaps one of the most unfortunately timed books of 2012."
And with a rejiggered game plan chock full of author event cancellations, title tweaks, and frantic changes in the publication date, it's also a lesson in damage control for the publishing industry.
"Paterno," a forthcoming biography of the late Penn State football coach by author Joe Posnanski, has made Simon & Schuster "the latest example of a publisher that is trying to recover when the story behind a planned book changes before publication," reports The New York Times in a piece on the forthcoming bio's bad timing.
And how the story has changed. "Announced in March 2011 as 'a biography of America's winningest college football coach, who changed the country one football player at a time,' the book will enter the marketplace at a moment when the name of Joe Paterno, the late Penn State coach, has gone from revered to radioactive," writes the Times.
---